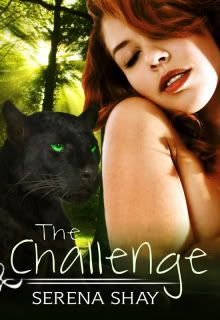 Woo Hoo! I am walking on air today...
On Aug 10th, the first book in my Jaguar series,
The Challenge
, goes on sale at
Liquid Silver Books
. I am thrilled. So thrilled in fact, that I decided to give you a snippet of my heroine...Marina.
Enjoy!
Bastian stepped closer, and her back warmed from the heat pulsing off him. Long fingers brushed the sides of her breasts, drawing the nipples to rigid points. "There's a first time for everything."
Oh yes, there was. Tonight she would climb into her car and willingly go wherever he wanted to take her. She'd allow herself to revel in the pure passion of sex with a full-blooded shifter, setting aside what would come next. Tomorrow was soon enough to find a nice, boring human and live a nice, boring life.
This was her chance to find out if there was more to sex than the lackluster orgasms found with human partners. For years she'd wondered if there more to it than the grunts and groans, the ooh babies and the repetitive pounding which never seemed to get her close to the elusive orgasm.