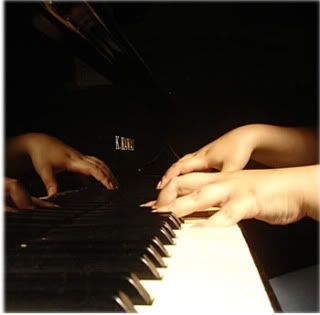 The lights dimmed and my body went pliant,
As the whole house around me fell silent.
Anticipation filled the air as she started to pace,
Tall, lithe and the epitome of grace.
She was ethereal; soft like the wind.
Dressed in fabric as delicate as flutter-by wings,
Her feet were shod
In slipper-like things.
Soft steps,
Taken on the tips of her toes.
Her eyes distant,
Where she is, nobody knows.
She sits upon the polished bench,
Her hands raised some six inches high.
No music to distract her,
And I wonder why?
The pianoforte is large and softly shaped,
The keys pure ivory; peddles golden-plate.
Its tone so perfect, yet utterly forlorn,
I had to wonder at her future fate.
So magical was the melody,
I lost track of time.
Had she played for minutes or months,
The thought of her stopping was surely a crime.
Fingers flew,
Intensity grew
And suddenly I found
My feet on the ground.
I stood with the others,
Hands flying to and fro.
My heart grew larger; my smile so wide,
Her music brought me alive inside.