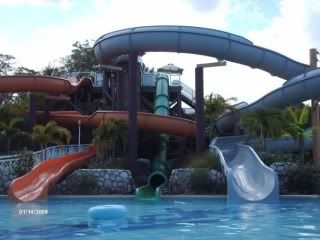 Sore feet and sunburned but boy did we have fun! Darling Diva found herself in possession of a free pass to our local water park for doing her summer reading, way to go Diva!
The wave pool was a hit for us all. Sitting in the shallows while the waves moved us in and out of the surf, walking out until each wave neared DD's face and riding the waves back in...if only we lived on a coast I think we'd all be learning to hang ten. ~smile~
After being battered around in the wave pool it was time for a bit of relaxation, aka The Lazy River. Another personal favorite of mine. Sun, tubes and water sprinklers make this water feature the perfect place to forage the imagination for story ideas and let some of life's stress just float away...
DD found a tube slide she just had to try and convinced her adorable Daddy to take her on it...after the first two times down, DD had the swing of things and no longer needed her security-daddy to hit the heights. Much to Dear Hubby's delight and dismay.
All in all it was a great time, sore feet and sunburns included!