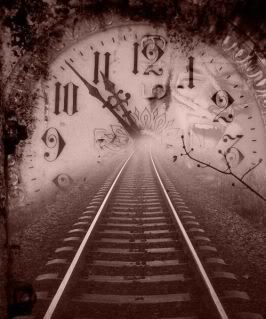 Good Sunday morning! Here it is, my first ~gulp~ attempt at time travel. Enjoy...
Fingers ran across the keys, each stroke bringing her closer to realizing her life's work. One jump would stop the eight seconds that changed the world. Eight seconds that indebted her family to the secret government agency hidden in the caves below the faces of our fore fathers.
The slow steady whine of electricity sounded as the computer came online. Checking her attire for accuracy one last time she stepped onto the raised platform. "Dr. Neal ready for transport, three…two…one. Engage."
The beam of light hit all at once, pulling her molecule by molecule into what she prayed was the past. Instant heat lanced her eyes, driving heat into her brain and burning her skin to ash. She had failed. There would be no fix. Her family would remain confined and in service, the world would continue never knowing what might have been, but she would finally taste freedom.
"…Oh God…It can't be…up there…he's been shot…" Sirens blared as cars sped away. Women cried and the men swore. No one could believe how this could have happened. Had he survived?
Where in the world had she landed?
Reality stretched, distorted then snapped back into place like an over extended rubber band. There was chaos all around, as the motorcade passed. A blur of pink as the beautiful woman crawled to the back of the car. Air rushed around her as a throng of spectators raced to the top of the grassy knoll.
She was too late. She'd failed to stop one man who'd started it all. Too late to save a visionary and as she slid to the ground waiting for the police to descend, she accepted that she was stuck in the past with no way home.
Check out some more Sun Scribblings
here