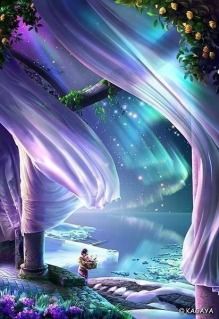 Acacia looked from wrist to wrist at the ropes holding her to the bed. Thick sailor knots assured there would be no leaving the pillowed haven until Varg released her. God, she was tired of being at the mercy of others because of a familial bequest she never wanted.
"Son.of.a.Bitch." Each tug of her arm tightened the restraints until her hands went numb. A virulent storm of emotions whipped the sheer draperies out towards the still calm sea as she watched for his return. "I'm going to kill that dirty, rotten Viking."
Sadly, she could attest to that being true. Her gift of knowing showed her this man's final outcome, like a movie, running repeatedly behind her eyes. Her fingers wrapped securely around his neck, squeezing the life from him until his eyes rolled back in his head and a final breath escaped his sensual lips.
A Day in the Life of Serena
Song of the Day
:
We All Die Young by Steelheart (For my hubs who has been listening to this song all weekend!)
Currently Reading
: Carnel Sin by Allison Brennan
Currently Writing
: Plotting werewolf series. Tyr & Ela's story. Though today's musing is from Varg & Acacia's story, probably the fourth book in the series.
Editing
: The Submission
Quote of the Day
:
Above all, be the heroine of your life, not the victim.

Nora Ephron