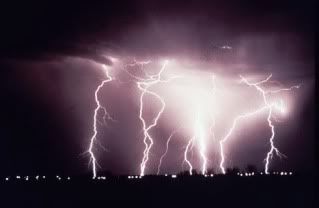 Hot, steamy weather, cool breezes. Thunder and lightening. Downpours, eighty mile an hour winds, tornado's all resulting in a downed trees and a loss of power across the city, but to my knowledge there were thankfully, no deaths.
The loss of power was a pain, although also a very good reminder. Most of the food in our fridge had to be tossed, which really grinds me. I've seen the faces of hunger right here in our country too many times, so throwing stuff out, disturbs me. On my to do list this week is a trip to the grocery store and the food shelf with my donations. I know of a small church run one right in my neighborhood which supports local families. That will be perfect.
The power outage also threw my writing for a loop. I got very little done this weekend. No editing, little blogging and no writing will make this a very busy week for me. Oh well, such is life, right. :)
Again there was a positive with the negative. Sitting in the dark with my hubby and darling diva while the storm pounded around us, we talked about storms we remembered from our childhood, partly as something to do and partly to ease my young ones worry. As we talked I had an idea for a journal. One done with my little diva in mind. I'm going to start jotting down the who, what, where, whens and whys of storms and such for her to have as she grows. The journal will grow, I'm sure, with firsts and boys and funnies and life, but it will be for her to share with her children, maybe during some frightening storm of their own. ;)
Have a great week!