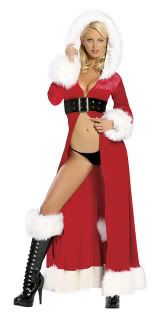 Welcome to the Holiday Hottie Blog Tour. I'm Holly, but you may call me Mistress, head elf-in-charge of the specialty division here at the North Pole. You should be coming to us from
Trina M. Lee's blog
.
When Serena called me to see if I would be interested in helping her with the blog tour and, of course,to check the status on her Christmas goody list, I thought, why not offer a tour of my dungeo...err, department for the tour.
So please, follow me. Stay together and no touching, unless of course you would like to be introduced to my fancy new flogger. Santa was very generous this year. heh heh.
Meet Max, the elf in charge of large ticket items and leather of all types. While Max is a quiet one, you'll be hard pressed to notice it amidst the moaning and begging. What's that? Any special talents, well he loves working with his hands. Where do you think Santa got the Cat-o-Nines...
Moving on....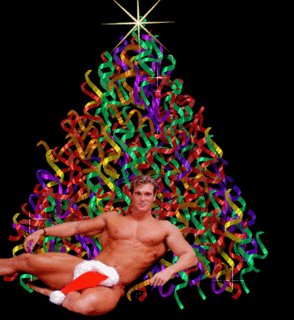 Next up, let me introduce you to Riven. This elf has an talent for wrapping and ribboning. Every package is smooth, every corner is square, every line is tight. Each bow is plump and perfectly placed. His gifts are so tightly packed and well wrapped, many a lady can barely restrain herself when opening them.
Hmmm, let me guess, what are Riv's special talents? Ladies, he can tie one heck of a knot. ~sigh~
And we are walking...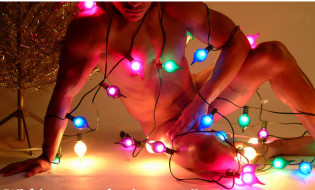 Last, but certainly not least, Luc, the elf of enlightenment.
Luc is a jack of all trades. He takes out the garbage, strings lights on the trees, cooks a divine Tiramisu and loves to read. His favorite books come from Liquid Silver Books... All those sexy books are like chocolate melting on the tip of your tongue when he reads to you in the dark of the night. Yeah, Serena stops by to visit quite often.
Speaking of Serena, I wonder where she's gotten off too.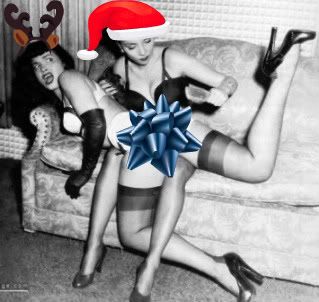 Oops, she appears to be busy... ;) Let's push on and I'll direct you to your next stop on this blog trail. Jolie Cain
http://joliecainauthor.blogspot.com/
Remember, leave a message on every blog along the way to win a prize. If you loose your way, fear not, there is a list of links at the bottom of this post to get you back on track and finally,
Thank you for joining us for this holiday blog fun and don't forget to drop in for the
Holiday Hottie Chat


Trina M. Lee http://trinamlee.com/blog/ Chatting
Serena Shay http://serenashay.blogspot.com/ Chatting
Jolie Cain http://joliecainauthor.blogspot.com/
Tina Holland http://tinaholland.wordpress.com/ Chatting
Stephanie Adkins http://stephanieadkins.wordpress.com/blog/
Emily and Elise http://www.scorchedsheets.com/blog
Juniper Bell http://authorJuniperBell.blogspot.com
K.Z. Snow http://kzsnow.blogspot.com.
Ella Drake http://elladrake.blogspot.com/ Chatting
Jeanne St. James http://www.jeannestjames.blogspot.com/ Chatting
Annie Nicholas www.annienicholas.blogspot.com
P.G. Forte http://www.rhymeswithforeplay.blogspot.com/ Chatting
Shara Lanel http://sharalanel.wordpress.com/ Chatting
Olivia Brynn http://oliviabrynn.com/blog Chatting
Dhympna du Maurier http://culinarycarnivale.blogspot.com/
Morgan Q. O'Reilly http://themorgandiaries.blogspot.com/
Sara Brookes http://www.sarabrookes.net Chatting
Savanna Kougar http://kougarkisses.blogspot.com/ Chatting
Christa Paige http://www.christapaige.com/blog/ Chatting
Vivian Arend http://vivianarend.com/blog/ Chatting
Cat Kane http://catkane.blogspot.com/Maybe Chatting
Dee Carney http://www.deecarney.com/blog/
Jambrea Jo Jones http://jambrea.wordpress.com/ Chatting
Gem Sivad http://gemsivad.wordpress.com/blog/ Chatting