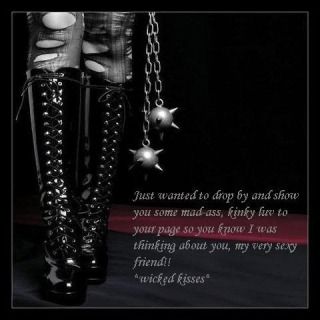 ~Lowers head and wonders where the naughtiness has gone~
Right, so I grabbed this graphic to use on my Wicked Wed blog 'cause, well I like it, but my second thought was ooh sexy. Know what my first thought was??
'Hmm, I wonder if those stockings come pre-ripped or if you rip them yourself...what a waste.'
Sad...so sad. I must need a good, hard spanking to get my naughty back on! ~wink~
A Day in the Life of Serena
Song of the Day
:
Dirty Deeds Done Dirt Cheap by AC/DC Working on the wicked today! ;D
Currently Reading
: A Lady's Guide to Improper Behavior by Suzanne Enoch
Currently Writing
: All editing again today...Tomorrow is Darling Diva's last day of school already so I have to get this done and off to the publisher asap for my own peace of mind!
Editing
: The Submission
Quote of the Day
:
To burn with desire and keep quiet about it is the greatest punishment we can bring on ourselves.

Federico García Lorca
Word of the Day
:
To beat or thrash.
Larrup may derive from the Dutch word larpen meaning "to beat with flails". ~Dictionary.com
~Hm, the derivative of this word, larpen, makes me wonder if this could have been a sexy word turned harsh. "to beat with flails" cat 'o nines maybe? A soft flogger?~