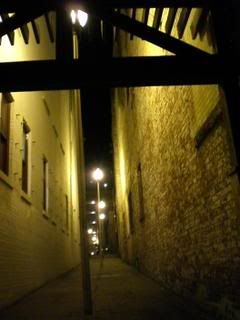 One more peek over her shoulder was all Faith needed to know she was being followed. Too many years as a single woman had made its mark on her. She was always wary of those around her, questioning the motives of both friends and enemies as well as acknowledging her stupid errors in judgment—like walking through the dark streets of her not so up to par neighborhood, alone.
The invite to a co-workers costume party had intrigued her enough to pull her into the streets of London on this cold, foggy evening. She'd hoped to meet someone, anyone who could free her mind and spirit for just a little bit. Someone who would ease the endlessly long life she seemed destined to live, but it had been a bad idea, she could see that now.
Faith went from a walk to a run, well as much of a run as her pencil thin heels would let her, as she neared her flat. She may be long lived and it may be hard to kill her, but surly there was something out there that could do the trick. Plus, she was so not impervious to pain. For that reason alone, she wanted inside,
please let me get inside
, before the presence catches up.
"Faithhhhh…," A slithery voice called out from the blackest shadows.
She would not listen. She was so close to her home, to safety.
"Faithhhh," the voice oozed out its evil request. "Love and Hope send their regrets, but you can join them…little witch."
True darkness overtook her in the flash of time it took to blink. Her last plea to whatever powers that be was a mournful "Save me" before the sharpened steel fangs eased into the soft flesh of her neck.
Read more bumps in the night at
Sunday Scribblings
.